Purpose
Since September 11, 2001, Americans have further realized the valor and sacrifice of our Firefighting/Emergency Service personnel and their critical role in maintaining safety order in our society. The goal of the Firefighter/EMS of the Year Award is recognize a well-rounded Firefighter/EMS who has exceeded, above and beyond, the duty requirements expected of his/her position and has demonstrated a distinct pattern of community service coupled with professional achievement.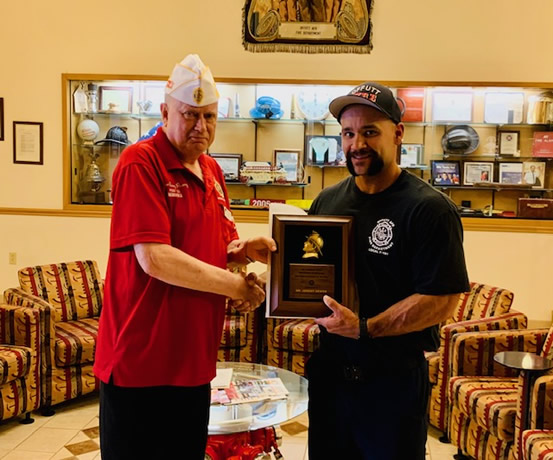 Department Commander John Henry Pearcy (left) presents Firefighter Jeremy Genier (right), Offutt AFB Fire &
Emergency Services, with the 2023 Nebraska American Legion Firefighter/EMT of the Year Award at the Offutt AFB Fire Station.
Eligibility
To be eligible for consideration, nominees must meet the following criteria:
- Be a citizen of the United States;
- Be a living, active firefighter/EMS in good standing within his or her department;
- Be assigned to, or fully recognized by municipal (city), county, district, or state fire department;
- Nominees are not required to be veterans or members of The American Legion;
- Reside and be assigned or attached for duty in the department from which they are selected; and
- If selected, be available to receive the award at The American Legion Department of Nebraska Convention in January.

Consideration for a posthumous award will be acceptable only if the nominee's death has occurred after the department's selection and within the dates for which the award is being presented.
The American Legion Department of Nebraska will submit one nomination from the state for the National Firefighter/EMS of the Year Award. This award is given at Legion Headquarter's annual convention.
Application
- Download the Department of Nebraska Firefighter/EMS of the Year Application Form. The complete application package must be submitted to Department Headquarters in Lincoln by December 1st.